Home

/

LEGENDE MULTIGRADE SAE 15W50
Collection lubes Mineral - LEGENDE MULTIGRADE SAE 15W50

LEGENDE MULTIGRADE SAE 15W50
Automobile
3176

Mineral

Viscosity :

15W50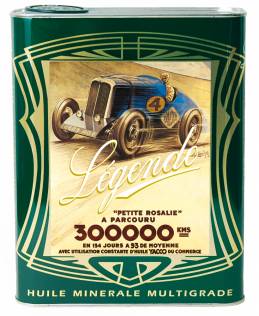 Specifications
API SF/CC
YACCO LEGENDE is recognised and recommended by vintage car clubs.
Available packing sizes
| | Référence | Conditionnement | Carton |
| --- | --- | --- | --- |
| 2L can | 3176 | 24 | 02 |
Descriptions
Yacco Legende Multigrade SAE 15W50 is a specific multigrade detergent mineral oil for vintage/classic car engines.
Specifically designed for the lubrication of 4-stroke engines in vintage/classic cars and motorbikes. To be used only in engines which allow detergent oil (rebuilt engines). For engines which require non-detergent oil, we recommend YACCO LEGENDE MONOGRADE SAE 30.
Properties and advantages
Excellent anti-corrosion and anti-wear properties.
Ensures a thick protective oil film is maintained, even when the vehicle is not used for long periods of time.
Enhanced oil film adhesion.
A moderate level of detergents means a clean engine and full compatibility with original materials and seals.
Suitable for use all year round.