Home

/

LUBE DI SAE 0W20
Yacco Lube Synthetic 100% - LUBE DI SAE 0W20
LUBE DI SAE 0W20
Automobile
3079

Families :

MID SAPS

Synthetic 100%

Viscosity :

0W20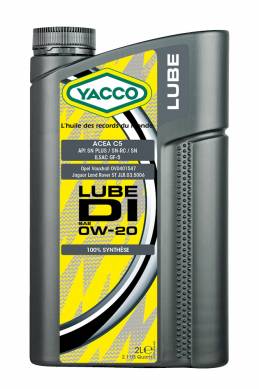 Approvals
OV0401547
Acknowledgement JLR.03.5006 in progress
Specifications
ACEA C6 and C5
API SP-RC
SN PLUS
SN-RC
ILSAC GF-6a
MB 229.72/71
Volvo VCC RBSO-2AE
Fiat 9.55535-DSX/GSX
Chrysler MS-12145
Ford WSS-M2C947-B1/M2C962-A1
Available packing sizes
| | Référence | Conditionnement | Carton |
| --- | --- | --- | --- |
| 1L can | 3079 | 25 | 01 |
| 2L can | 3079 | 24 | 02 |
| 5L can | 3079 | 22 | 15 |
| 60L barrel | 3079 | 10 | 00 |
| 208L barrel | 3079 | 06 | 00 |
| 1000L tank | 3079 | 30 | 00 |
| 1000Lbulk | 3079 | 19 | 00 |
Descriptions
Yacco Lube DI SAE 0W20 is a 100% Synthetic Fuel Economy - Mid-SAPS lubricant.
Yacco Lube DI SAE 0W20 is a 100% synthetic fuel economy lubricant for diesel and gasoline engines in passenger cars, including those equipped with a DPF.
Particularly suitable for Opel/Vauxhall, when the manufacturer recommends the use of a OV0401547 lubricant. Al so suitable for diesel and gasoline engines from other car manufacturers which require the use of one of the following specification.
Properties and advantages
Low H.T.H.S viscosity (SAE 0W 20) provides quick oil flow, increases fuel economy, reduces CO2 and exhaust gas emissions, and offers excellent engine protection against wear.
Specific additives prevent the risk of L.S.P.I (low speed pre ignition) in the last generation of gasoline direct injection engines.
"MID SAPS" technology extends the service life of particulate filters.
Excellent detergent dispersant properties keep the engine clean.
Outstanding shear stability maintains perfect lubrication at high temperatures.
Low viscosity at cold temperatures for easy start ups, all year round.