Home

/

Lube F SAE 0W30
Yacco Lube Synthetic 100% - Lube F SAE 0W30
Lube F SAE 0W30
Automobile
3063

Families :

MID SAPS - FUEL ECONOMY

Synthetic 100%

Viscosity :

0W30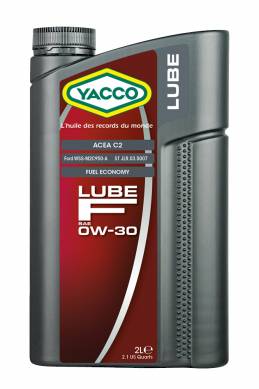 Specifications
WSS-M2C950-A Ford acknowledgement
STJLR.03.5007 Jaguar Land Rover acknowledgement
ACEA C2
Available packing sizes
| | Référence | Conditionnement | Carton |
| --- | --- | --- | --- |
| 1L can | 3063 | 25 | 01 |
| 2L can | 3063 | 24 | 02 |
| 5L can | 3063 | 22 | 15 |
| 208L barrel | 3063 | 06 | 00 |
| 1000L tank | 3063 | 30 | 00 |
| 1000Lbulk | 3063 | 19 | 00 |
Descriptions
Yacco Lube F SAE 0W30 is a 100% synthetic "MID SAPS" oil for diesel and gasoline engines.
100% synthetic high performance "fuel economy" oil for diesel and gasoline engines in passenger cars and light commercial vehicles. Specifically designed to meet the Ford WSS-M2C950-A and Jaguar Land Rover JLR.03.5007 specifications for diesel engines. Also suitable for diesel and gasoline engines that require the use of an ACEA C2 SAE 0W-30 oil. Compatible with Alfa Romeo, Fiat, Lancia, Honda, Iveco UV, Hyundai, Mitsubishi, Subaru, Suzuki, Toyota, etc.
Properties and advantages
100% synthetic SAE 0W30 ACEA C2 formula, which is Ford & Jaguar Land Rover compliant. Allows for significant fuel economy, thus reducing CO2 and exhaust gas emissions.
"MID SAPS" technology (low sulphated ash, phosphorous and sulphur) extends the service life of diesel particulate filters (DPF) and offers enhanced protection of catalytic converters.
Greater protection against engine wear and the formation of deposits.
Low viscosity at cold temperatures for easy start-ups, whatever the outside temperature may be.
Allows for safe prolonged oil change intervals.