Home

/

Lube F -SAE 5W20
Yacco Lube Synthetic 100% - Lube F -SAE 5W20
Lube F -SAE 5W20
Automobile
3043

Families :

Fuel Economy

Synthetic 100%

Viscosity :

5W20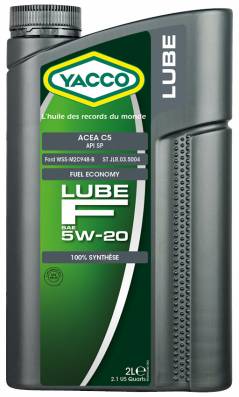 Specifications
WSS-M2C948 B Ford acknowledgement
ST JLR.03.5004 Jaguar Land Rover acknowledgement
ACEA C5
Ford WSS-M2C925-A/B
Available packing sizes
| | Référence | Conditionnement | Carton |
| --- | --- | --- | --- |
| 1L can | 3043 | 25 | 01 |
| 2L can | 3043 | 24 | 02 |
| 5L can | 3043 | 22 | 15 |
| 60L barrel | 3043 | 10 | 00 |
| 208L barrel | 3043 | 06 | 00 |
| 1000L tank | 3043 | 30 | 00 |
| 1000Lbulk | 3043 | 19 | 00 |
Descriptions
Lube F SAE 5W20 is a 100% synthetic fuel economy engine oil.
Specially designed to be FORD WWS-M2C948 B compliant, this being required by various FORD gasoline* engines, and ST JLR.03.5004/FordWSS-M2C925-A/B compliant, this being required by Jaguar Land Rover 3.0L S/C, 5.0L & 5.0L S/C gasoline engines until 2014.
Lube F SAE 5W20 is also recommended for any other type of gasoline engine where the manufacturer requires the use of API SP/SN+/SN or ACEA C5 SAE 5W20 engine oil.
Properties and advantages
Low viscosity (SAE 5W20) provides quick oil flow, increases fuel economy, reduces CO2 and exhaust gas emissions, and offers excellent engine protection against wear.
Maintains initial engine performance and reduces fuel consumption between each oil change.
Limits the formation of deposits and keeps engines clean.
Specific additives provide optimal engine protection in all temperatures and service conditions.
* Depending on Ford's requirements, use this product :
YACCO GALAXIE RS / YACCO VX 1000 LL 0W-40 (Ford WSS-M2C937-A)
YACCO VX 1000 FAP 5W-40 (Ford WSS-M2C917-A)
YACCO LUBE F 5W-30 (Ford WSS-M2C913-D)
YACCO LUBE DI 0W-20 (Ford WSS-M2C962-A1 ou WSS-M2C947-B1)
YACCO LUBE GDI 5W-30 (Ford WSS-M2C946-A)
YACCO LUBE J 5W-30 (Ford WSS-M2C934-B)
YACCO LUBE F 0W-30 (Ford WSS-M2C950-A).