Home

/

LUBE F SAE 5W30
Yacco Lube Synthetic 100% - LUBE F SAE 5W30
LUBE F SAE 5W30
Automobile
3049

Families :

Fuel Economy

Synthetic 100%

Viscosity :

5W30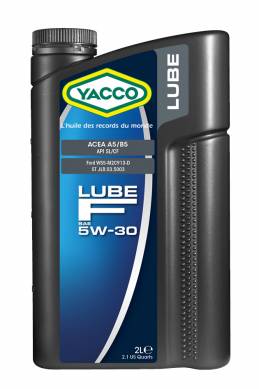 Specifications
ACEA A5/B5
API SL/CF
Ford WSS-M2C913-D acknowledgement
ST JLR.03.5003 Jaguar Land Rover acknowledgement
Available packing sizes
| | Référence | Conditionnement | Carton |
| --- | --- | --- | --- |
| 1L can | 3049 | 25 | 01 |
| 2L can | 3049 | 24 | 02 |
| 5L can | 3049 | 22 | 15 |
| 60L barrel | 3049 | 10 | 00 |
| 208L barrel | 3049 | 06 | 00 |
| 1000L tank | 3049 | 30 | 00 |
| 1000Lbulk | 3049 | 19 | 00 |
Descriptions
LUBE F SAE 5W30 is a 100% synthetic fuel economy engine oil.
LUBE F SAE 5W30 is specifically developed to meet the Ford WSS-M2C913-D & ST JLR.03.5003 specifications.
LUBE F SAE 5W30 is suitable for most FORD & Jaguar Land Rover diesel /gasoline engines.*
LUBE F SAE 5W30 is also recommended when the manufacturer recommends these FORD/JLR specifications or the use of ACEA A5/B5, API SL/CF oil (Honda, Kia, Mazda, Volvo, etc.).
Properties and advantages
Significant reduction in fuel consumption, thus lowering CO2 and exhaust emissions, for a more environmentally-friendly oil.
Outstanding protection against wear, especially for the parts of the engine's distribution.
Fully compatible with the former specifications WSS-M2C913 C/913B/913-A.
Good resistance to shearing and high temperatures.
Excellent oil flow at low temperatures (tested at -35°C).
Very good anti-oxidation properties maintain optimal viscosity over the service life of the oil, including in engines running on biodiesel.
*Check the Ford or JLR recommended specification before use