Home

/

LUBE FE SAE 0W16
Yacco Lube Synthetic 100% - LUBE FE SAE 0W16
LUBE FE SAE 0W16
Automobile
3064

Synthetic 100%

Viscosity :

0W16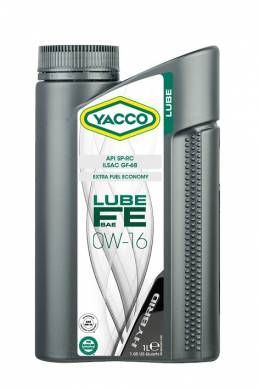 Available packing sizes
| | Référence | Conditionnement | Carton |
| --- | --- | --- | --- |
| 1L can | 3064 | 25 | 01 |
Descriptions
Yacco LUBE FE SAE 0W16 is a 100% synthetic "fuel economy" engine oil.
100% synthetic low-viscosity motor oil for gasoline and hybrid engines in passengers cars.
Yacco LUBE FE SAE 0W16 improves fuel efficiency and reduces CO2 emissions. Some manufacturers are starting to authorize or recommend the use of very fluid SAE 0W-16 oils (Honda, Suzuki, Toyota, etc.).
Properties and advantages
Very low viscosity (SAE 0W-20) ensures quick oil flow, increases fuel economy and reduces exhaust emissions (CO2, NOx, particulate matter, etc.), whilst offering excellent protection against engine wear.
Good detergent-dispersant properties keep the engine clean.
Excellent shear stability ensures optimal viscosity at 100°C and 150°C, meaning improved lubrication at high temperatures.
Low viscosity at cold temperatures for easy start-ups in very low temperatures.