Home

/

Lube M SAE 0W20
Yacco Lube Synthetic 100% - Lube M SAE 0W20
Lube M SAE 0W20
Automobile
3072

Families :

MID SAPS

Synthetic 100%

Viscosity :

0W20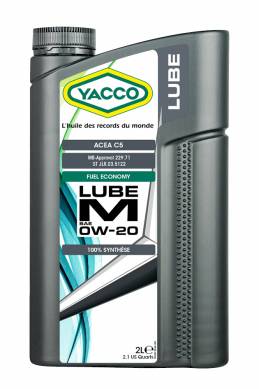 Approvals
Mercedes-Benz MB-Approval 229.71
Specifications
ACEA C5
API SN
Jaguar Land Rover ST JLR.03.5122 acknowledgement
Available packing sizes
| | Référence | Conditionnement | Carton |
| --- | --- | --- | --- |
| 1L can | 3072 | 25 | 01 |
Descriptions
Yacco Lube M SAE 0W20 is a 100% synthetic fuel economy and "Mid SAPS" lubricant.
100% synthetic low viscosity oil for high performance gasoline and diesel engines in passenger cars (incl. DPF equipped vehicles). Specifically developed for Mercedes-Benz, Jaguar and Land Rover vehicles which require MB 229.71 or ST JLR 03.5122 lubricants.
Yacco Lube M SAE 0W20 can replace ST JLR.03.5004 lubricants (Yacco LUBE F 5W20) specified in Jaguar Land Rover 3.0 L S/C, 5.0 L and 5.0 L S/C engines (from 2010 to 2014). This oil is also suitable for vehicles when the manufacturer recommends the use of SAE 0W-20 ACEA C5 oil.
Properties and advantages
Low viscosity (SAE 0W-20 viscosity grade) ensures quick oil flow, provides increased fuel economy and keeps emissions (CO2, Nox , particulates…) extremely low, whilst offering outstanding protection against engine wear.
Mid SAPS" technology extends the service life of diesel particulate filters (DPF).
Excellent detergent-dispersant properties keep the engine clean.
Outstanding shear stability maintains perfect lubrication at high temperatures.
Low viscosity at cold temperatures for easy start-ups, whatever the outside temperature may be.