Home

/

Lube R SAE 5W30
Yacco Lube Synthetic 100% - Lube R SAE 5W30
Lube R SAE 5W30
Automobile
3057

Families :

LOW SAPS

Synthetic 100%

Viscosity :

5W30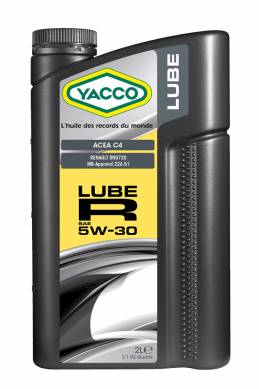 Approvals
Renault RN0720 : Renault F.A.P. diesel engines except 2.2 dCi DPF and engines which require a RN17 performance oil.
Mercedes-Benz MB-Approval 226.51
Specifications
ACEA C4
ACEA C3 performance
Available packing sizes
1L can
2L can
5L can
60L barrel
208L barrel
1000L tank
1000Lbulk
Descriptions
Yacco Lube R SAE 5W30 is a 100% synthetic "Low SAPS" oil for diesel engines.
Specifically developed for Renault diesel engines with particulate filters (which require a RN0720 oil), as well as for Mercedes-Benz engines that require the use of a MB-Approval 226.51 oil. Suitable for the latest diesel engines fitted with particulate filters in passenger cars and light commercial vehicles. Can be used where a SAE 5W30 grade ACEA C4 oil is specified by the manufacturer: Fiat (Talento), Infiniti, Mitsubishi, Nissan, Samsung (QM3), Suzuki (Grand Vitara ), etc.
Properties and advantages
100% synthetic formula provides outstanding resistance to oxidation: this maintains the engine's original performance levels and extends its lifespan.
Grade SAE 5W improves oil flow at low temperatures, meaning immediate and optimal lubrication upon start-up.
High HTHS viscosity provides outstanding shear resistance at very high temperatures: this enhances the engine protection, even under the most severe driving conditions.
"Low SAPS" formula containing lower levels of sulphated ash, phosphorous and sulphur to extend the service life of particulate filters and catalytic converters: this helps protect the environment by reducing fuel consumption and exhaust emissions (particulates, Nox...).