Home

/

LUBE W - SAE 0W20
Yacco Lube Synthetic 100% - LUBE W - SAE 0W20
LUBE W - SAE 0W20
Automobile
3067

Families :

FUEL ECONOMY

Synthetic 100%

Viscosity :

0W20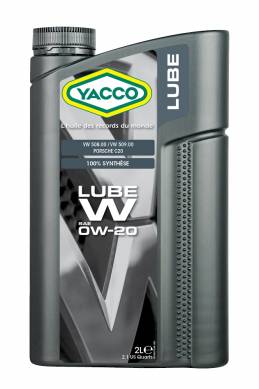 Approvals
VW 508.00/509.00
Porsche C20
Specifications
ACEA C5
API SN plus
VW TL 525 77
Available packing sizes
| | Référence | Conditionnement | Carton |
| --- | --- | --- | --- |
| 1L can | 3067 | 25 | 01 |
| 2L can | 3067 | 24 | 02 |
| 5L can | 3067 | 22 | 15 |
| 60L barrel | 3067 | 10 | 00 |
| 208L barrel | 3067 | 06 | 00 |
Descriptions
Yacco LUBE W SAE 0W20 is a 100% synthetic "fuel economy" engine oil.
100% synthetic "fuel economy" oil designed for diesel and gasoline passenger car engines. Specifically recommended for Volkswagen Group engines which require the use of SAE 0W-20 fuel economy oil that meets the VW 508.00/VW 509.00 or Porsche C 20 specifications.
This motor oil is not compatible with older engines.
Properties and advantages
Low viscosity (SAE 0W-20) ensures quick oil flow, provides improved fuel efficiency and keeps exhaust emissions (CO2, NOX , etc.) extremely low, whilst offering outstanding protection against wear.
Low levels of sulphated ash, phosphorous and sulphur, extending the service life of particulate filters and catalytic converters.
PAO-based synthetic formula provides outstanding resistance to oxidation for optimal performance until the next oil change.
Excellent detergent-dispersant properties keep the engine clean.
Outstanding shear stability maintains perfect lubrication at high temperatures and under severe service conditions.
Dyed blue in accordance with Volkswagen (VW Blue Oil) requirements.