Home

/

VX 1000 LE SAE 5W30
Yacco VX Premium Synthetic 100% - VX 1000 LE SAE 5W30
VX 1000 LE SAE 5W30
Automobile
3071

Families :

MID SAPS

Synthetic 100%

Viscosity :

5W30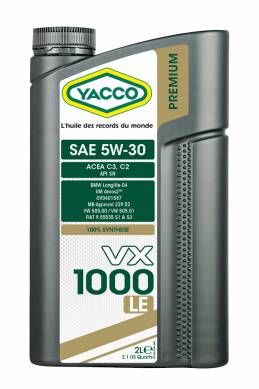 Approvals
API SN
BMW Longlife-04
MB-Approval 229.52
VW 505.00 / VW 505.01
Specifications
ACEA C3 et ACEA C2
GM dexos2TM
OV0401547
MB229.51 / 229.31
Exceeds the requirements of Fiat 9.55535 S1 / 9.55535 S3
Available packing sizes
| | Référence | Conditionnement | Carton |
| --- | --- | --- | --- |
| 1L can | 3071 | 25 | 01 |
| 2L can | 3071 | 24 | 02 |
| 5L can | 3071 | 22 | 15 |
| 60L barrel | 3071 | 10 | 00 |
| 208L barrel | 3071 | 06 | 00 |
| 1000L tank | 3071 | 30 | 00 |
| 1000Lbulk | 3071 | 19 | 00 |
Descriptions
Yacco VX 1000 LE SAE 5W30 is a 100 % synthetic oil for gasoline and diesel engines. "Mid SAPS" technology.
Yacco VX 1000 LE SAE 5W30 covers a wide range of OEM specifications. It is recommended for use in Euro 4, Euro 5 or Euro 6 diesel and gasoline engines (including those fitted with a particulate filter) when one of the below specifications is required.
Yacco VX 1000 LE SAE 5W30 is also suitable for many other OEM types of engines: BMW, Fiat, GM, Honda, Hyundaï, Kia, Mercedes, Mitsubishi, Nissan, Opel, P.S.A . (B71 2290 until 2017, for recent vehicles, use Lube P + 5W30), Subaru, Suzuki, Ssangyong , Toyota, VW Group…
Properties and advantages
"MID SAPS" technology (lower levels of sulphated ash, phosphorous and sulphur) extends the service life of particulate filters and catalytic converters.
The ACEA C2 specification helps to reduce fuel consumption and pollutant emissions, particularly CO2.
High viscosity at high temperatures provides excellent engine protection.
High detergent/dispersant properties ensure a clean engine and mean deposits can be easily removed during oil changes.
Increased protection against wear and corrosion.
Allows for safe extended oil change intervals, as per OEM recommendations.