Home

/

VX 1000 LL - SAE 0W40
Yacco VX Premium Synthetic 100% - VX 1000 LL - SAE 0W40
VX 1000 LL - SAE 0W40
Automobile
3062

Families :

LONG LIFE

Synthetic 100%

Viscosity :

0W40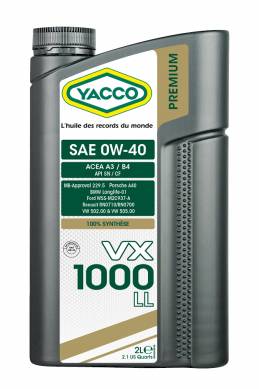 Approvals
Mercedes MB-Approval 229.5
Porsche A40
API SN
Specifications
ACEA A3/B4
API CF
BMW Longlife-01 (until end 2018)
FORD WSS-M2C937-A
Renault RN0710/0700
VW 502.00/505.00
Available packing sizes
| | Référence | Conditionnement | Carton |
| --- | --- | --- | --- |
| 1L can | 3062 | 25 | 01 |
| 2L can | 3062 | 24 | 02 |
| 208L barrel | 3062 | 06 | 00 |
| 1000L tank | 3062 | 30 | 00 |
| 1000Lbulk | 3062 | 19 | 00 |
Descriptions
Yacco VX 1000LL SAE 0W40 is a 100% synthetic longlife oil for gasoline, diesel and LPG engines.
100% synthetic longlife oil for very high performance gasoline, diesel and LPG engines. Meets or exceeds the requirements of leading car manufacturers. Suitable and recommended for highly stressed gasoline and diesel engines (including direct injection, multi-valve and turbocharged engines) without DPF (diesel particulate filter).
Properties and advantages
100% synthetic oil with specific additives. Exceeds the performance level of most SAE 5W40 and SAE 0W40 engine oils available on the market.
Excellent thermal and oxidation stability extend the service life of the oil and provide optimal engine protection, even during extended oil change intervals.
Excellent shear resistance for enhanced stay-in grade performance.
Outstanding viscosity at low temperatures means easy start-ups and reduced wear during these phases.
High detergent/dispersant properties keep the engine clean, even under the most extreme driving conditions.