Home

/

VX 1000 LL SAE 5W40
Yacco VX Premium Synthetic 100% - VX 1000 LL SAE 5W40
VX 1000 LL SAE 5W40
Automobile
3023

Families :

Long Life

Synthetic 100%

Viscosity :

5W40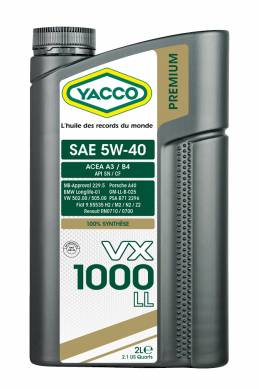 Approvals
API SN
MB Approval 229.5
Porsche A40
Volkswagen 502.00/505.00
Specifications
ACEA A3/B4; API CF
BMW Longlife-01
FIAT 95535 H2/M2/N2/Z2
GM-LL-B-025
Renault RN0710/0700
PSA B71 2296
Available packing sizes
| | Référence | Conditionnement | Carton |
| --- | --- | --- | --- |
| 1L can | 3023 | 25 | 01 |
| 2L can | 3023 | 24 | 02 |
| 208L barrel | 3023 | 06 | 00 |
| 1000L tank | 3023 | 30 | 00 |
| 1000Lbulk | 3023 | 19 | 00 |
Descriptions
Yacco VX 1000LL SAE 5W40 is a 100% synthetic "Longlife" oil for gasoline, diesel and LPG engines.
Suitable for highly stressed gasoline engines (multi-valve, regardless of whether they are turbocharged) and direct injection diesel engines (including turbocharged ones). Can be used under severe driving conditions (motorways, heavy city traffic, etc.). Suitable for all vehicles with a catalytic converter and/or which run on LPG.
Properties and advantages
100% synthetic high performance formula.
Excellent stability at high temperatures and shear resistance.
Outstanding performance at low temperatures.
Excellent detergent/dispersant properties.
Ensures the engine's original level of performance is maintained, as well as extending its service life.
Instant protection of the engine against wear upon start-up.
Keeps the engine clean, even under very severe driving conditions.