Home

/

VX 1500 SAE 0W30
Yacco VX Premium Synthetic 100% - VX 1500 SAE 0W30
VX 1500 SAE 0W30
Automobile
3020

Families :

- Fuel Economy

Synthetic 100%

Viscosity :

0W30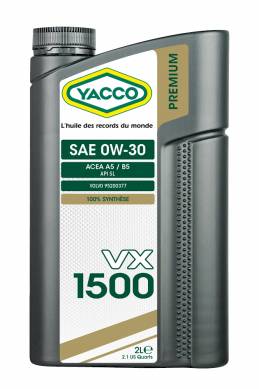 Available packing sizes
| | Référence | Conditionnement | Carton |
| --- | --- | --- | --- |
| 1L can | 3020 | 25 | 01 |
| 2L can | 3020 | 24 | 02 |
| 208L barrel | 3020 | 06 | 00 |
| 1000L tank | 3020 | 30 | 00 |
| 1000Lbulk | 3020 | 19 | 00 |
Descriptions
Yacco VX 1500 SAE 0W30 is a 100% synthetic fuel economy oil for high performance gasoline and diesel engines.
100% synthetic fuel economy engine oil for passenger cars. Reduces exhaust emissions. Suitable for gasoline and diesel engines, including those fitted with direct injection systems and turbochargers. Particularly recommended where the manufacturer specifies the use of SAE 0W 30 ACEA A5/B5, ACEA A5/B5, API SL or VOLVO VCC 95200377 oil: Volvo, Toyota, Mitsubishi, Honda, etc.
Properties and advantages
100% synthetic formula provides outstanding thermal resistance and excellent lubrication in any driving conditions: roads, motorways, city traffic, etc. Allows for extended oil change intervals.
Low HTHS viscosity at 150°C (low viscosity at high temperatures and under high shear) improves fuel economy and reduces emissions, thus helping to protect the environment.
Low viscosity in cold conditions (100% synthetic SAE 0W30 oil) means instant oil flow for increased engine protection against wear.
Excellent detergent/dispersant properties keep the engine clean, even under severe driving conditions.