Home

/

VX 300 SAE 10W40
Yacco VX Semi synthetic - VX 300 SAE 10W40
VX 300 SAE 10W40
Automobile
3033

Semi synthetic

Viscosity :

10W40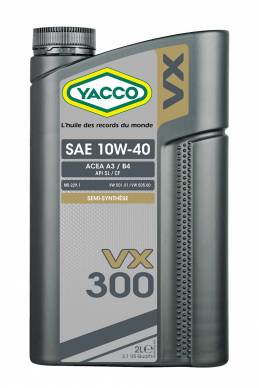 Specifications
ACEA A3/B4
API SL/CF
MB 229.1
VW 501.01/VW 505.00
Available packing sizes
| | Référence | Conditionnement | Carton |
| --- | --- | --- | --- |
| 2L can | 3033 | 24 | 02 |
| 5L can | 3033 | 22 | 15 |
| 208L barrel | 3033 | 06 | 00 |
| 1000L tank | 3033 | 30 | 00 |
| 1000Lbulk | 3033 | 19 | 00 |
Descriptions
Yacco VX 300 SAE 10W40 is a semi-synthetic oil for high performance gasoline and diesel engines.
Suitable for gasoline and diesel engines without DPF, including multi-valve and turbocharged ones. Particularly recommended for engines fitted with hydraulic valve trains. Ideal for urban and/or road service conditions. Compatible with LPG vehicles and/or those fitted with catalytic converters.
Properties and advantages
Synthetic based formula for improved thermal resistance, meaning outstanding lubrication, even under severe driving conditions.
Enhanced additives for lubrication of diesel direct-injection engines for increased protection against deposit formation at high temperatures.
SAE 10W40 grade viscosity improves lubrication at low temperatures and prevents engine wear upon start-up.