Home

/

VX 500 SAE 10W40
Yacco VX Premium Synthetic technology - VX 500 SAE 10W40
VX 500 SAE 10W40
Automobile
3031

Synthetic technology

Viscosity :

10W40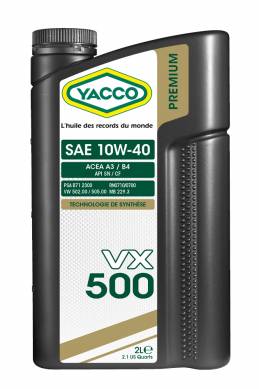 Specifications
ACEA A3/B4
API SN/CF
PSA B71 2300
Renault RN0710/0700
MB 229.3
VW 502.00/505.00
Available packing sizes
| | Référence | Conditionnement | Carton |
| --- | --- | --- | --- |
| 1L can | 3031 | 25 | 01 |
| 2L can | 3031 | 24 | 02 |
| 5L can | 3031 | 22 | 15 |
| 60L barrel | 3031 | 10 | 00 |
| 208L barrel | 3031 | 06 | 00 |
| 1000L tank | 3031 | 30 | 00 |
| 1000Lbulk | 3031 | 19 | 00 |
Descriptions
Yacco VX 500 SAE 10W40 is a synthetic technology oil for high performance gasoline and diesel engines.
High-performance synthetic technology lubricant recommended for gasoline, diesel and LPG engines fitted with turbo or direct injection systems. Suitable for vehicles used for long motorway journeys under severe driving conditions and short journeys with frequent stop-and-go.
Properties and advantages
Very high performance 10W40 oil which covers a wide range of OEM specifications, including those from Renault and the PSA Group.
Enriched synthetic formula ensures optimal lubrication throughout the service life of the oil.
A high viscosity index provides excellent stability at high temperatures and quick oil flow upon start-up.
Increased detergent/dispersant additives protect the engine from clogging, increase its performance level and extend its service life.