Home

/

BVX 500 X SAE 75W80
Synthetic lubes Synthetic - BVX 500 X SAE 75W80
BVX 500 X SAE 75W80
Gearboxes / beam axles
3405

Synthetic

Viscosity :

75W80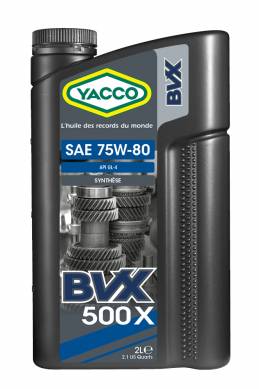 Specifications
API GL-4
BMW MTF LT-2/ MTF LT-3
GM 1940182 / 1940764 / 1940768
Fiat 9.55550-MZ6
Honda MTF/MTF-II/MTF-III
Nissan MT-XZ; Nissan MT-XZ TL/JR Type
MB 235.10
MTF 94
PSA B71 2330
Volvo 97308 / 97309
VW G 009 317
VW G 060726
Renault Tranself NFJ/NFP/TRJ/TRZ
Available packing sizes
| | Référence | Conditionnement | Carton |
| --- | --- | --- | --- |
| 2L can | 3405 | 24 | 02 |
| 60L barrel | 3405 | 10 | 00 |
| 208L barrel | 3405 | 06 | 00 |
Descriptions
Yacco BVX 500 X SAE 75W80 is a synthetic high performance transmission oil.
Multipurpose transmission oil suitable for all manual transmissions in light vehicles and certain types of commercial vans.
Yacco BVX 500 X SAE 75W80 covers a wide range of uses and specifications. It is suitable for use in manual transmissions from a large number of car brands.
Properties and advantages
Synthetic-based formula provides increased protection for components.
Extreme-pressure and anti-wear properties ensure optimal gear protection under the most severe service conditions.
Very good compatibility with elastomers.
Excellent synchromesh operation over the entire service life of the gearbox.
Outstanding anti-foam and filterability properties provide effective lubrication under all conditions.
Increased anti-rust and anti-corrosion protection.
Suitable for the transmissions of many different European and Asian vehicles.