Home

/

BVX LS 1000 SAE 75W140
Synthetic lubes Synthetic 100% - BVX LS 1000 SAE 75W140

BVX LS 1000 SAE 75W140
Gearboxes / beam axles
3409

Families :

PAO ESTERS

Synthetic 100%

Viscosity :

75W140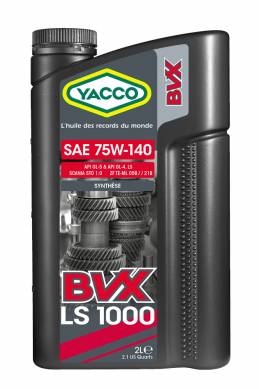 Specifications
API GL-5/ GL-4
LS (Limited Slip)
SCANIA STO 1:0
ZF TE-ML 05B / 12B
Fiat 9.55550-DA5
Available packing sizes
| | Référence | Conditionnement | Carton |
| --- | --- | --- | --- |
| 2L can | 3409 | 24 | 02 |
| 20L barrel | 3409 | 13 | 00 |
| 60L barrel | 3409 | 10 | 00 |
Descriptions
Yacco BVX LS 1000 SAE 75W140 is a 100% synthetic oil for gearboxes and axles.
100% synthetic long life oil for highly stressed gearboxes and drive axles. Particularly recommended for self-locking and limited slip differentials. Various uses: sports and racing cars, 4WD vehicles, construction, agricultural and industrial vehicles, etc.
Properties and advantages
100% synthetic formula for optimal protection of vehicle parts.
The oil's characteristics are maintained even under severe service conditions (competition, hot weather etc.).
Outstanding anti wear and extreme-pressure properties.
Specific formula which includes friction modifiers to prevent noise and chattering from the friction system.
Rapid oil flow during cold starts due to good fluidity.
Perfect protection against wear and corrosion, as well as high thermal stability, prolonging the service life of gears and bearings.
Effective protection of hypoid gears.
Versatility: due to its formula, this product is suitable for manual gearboxes, limited-slip differentials, reducers, etc.