Home

/

BVX M100 SAE 80W85
Mineral lubes Mineral - BVX M100 SAE 80W85
BVX M100 SAE 80W85
Gearboxes / beam axles
3422

Mineral

Viscosity :

80W85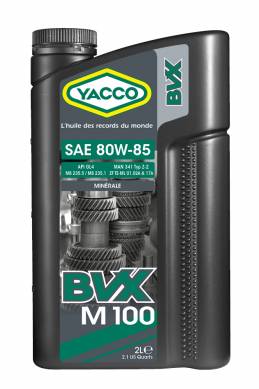 Specifications
API-GL4
MIL-L-2105
AGMA 9005-E02
DIN 51517-3
MAN 341 Type Z-2
MB 235.5 / MB 235.1
ZF TE-ML 02A / 02B / 04F / 06L / 08 / 17A
Available packing sizes
| | Référence | Conditionnement | Carton |
| --- | --- | --- | --- |
| 2L can | 3422 | 24 | 02 |
| 60L barrel | 3422 | 10 | 00 |
Descriptions
Yacco BVX M100 SAE 80W85 is a mineral oil for manual transmissions.
Yacco BVX M100 SAE 80W85 is formulated for lubrication of manual gearboxes, transfer cases, and drive axles of passenger cars and trucks, where the manufacturer recommends SAE 80W85 grade with API GL-4 and/or MIL-L-2105 is recommended.
Specifically designed for use with lightly loaded parts which are not used intensively, under normal conditions, all year round. This oil may also be used in some industrial reduction gears where ISO VG 100 oil is recommended.
Properties and advantages
Good anti-oxidant, anti-foam and extreme pressure properties.
Non-aggressive towards non-ferrous metals.
Good protection against wear.
Very good stability in service.