Home

/

BVX R 200 SAE 75W80
Mineral lubes Mineral - BVX R 200 SAE 75W80
BVX R 200 SAE 75W80
Gearboxes / beam axles
3418

Mineral

Viscosity :

75W80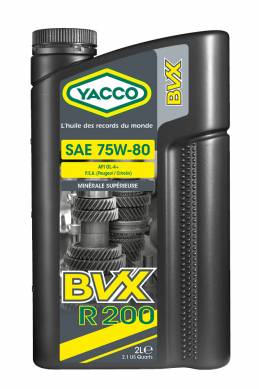 Specifications
API GL-4+
P.S.A. Group (Peugeot, Citroën, DS Automobiles)
Available packing sizes
| | Référence | Conditionnement | Carton |
| --- | --- | --- | --- |
| 208L barrel | 3418 | 06 | 00 |
Descriptions
Yacco BVX R 200 SAE 75W80 is a high-quality mineral oil for manual transmissions.
Lubrication of manual transmissions and drive axles in passenger cars and light commercial vehicles where API GL-4/API GL-4+ with SAE 75W 80 viscosity oil is recommended by the OEM.
Yacco BVX R 200 SAE 75W80 provides easier gear shifting in cold temperatures and improves fuel economy.
Properties and advantages
High viscosity index for a mineral oil, ensuring a protective lubricating film is maintained at high and low temperatures alike.
Good thermal stability. Excellent lubrication of gearbox components, even under severe driving conditions.
Very good anti-wear and anti-corrosion properties
Improved anti-friction properties to improve gear shifting.