Home

/

BVX R 500 SAE 75W80
Semi-synthetic lubes Semi synthetic - BVX R 500 SAE 75W80
BVX R 500 SAE 75W80
Gearboxes / beam axles
3406

Semi synthetic

Viscosity :

75W80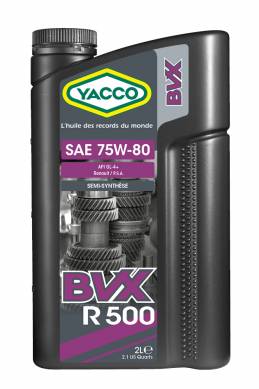 Specifications
API GL-4+
Renault Group (Dacia, Nissan, Renault) transmissions Jxx, TL4, NDx
P.S.A Group (Peugeot, Citroën, DS Automobiles)
Available packing sizes
| | Référence | Conditionnement | Carton |
| --- | --- | --- | --- |
| 2L can | 3406 | 24 | 02 |
| 60L barrel | 3406 | 10 | 00 |
| 208L barrel | 3406 | 06 | 00 |
Descriptions
Yacco BVX R 500 SAE 75W80 is a 100% semi-synthetic high performance oil for manual transmissions.
Lubrication of modern manual transmissions and drive axles in passenger cars and light commercial vehicles where API GL-4/API GL-4+ SAE 75W80 grade oil is recommended by the manufacturer (especially PSA and Renault Groups). Particularly suitable for prolonged use under all driving conditions (motorways, city traffic, etc.) and severe usage, all year round.
Properties and advantages
100% semi-synthetic: half synthetic and half mineral content.
Excellent fluidity at low temperatures and outstanding thermal stability.
Outstanding extreme pressure properties for increased protection of gear components.
Excellent resistance to oxidation means optimal lubrication in service until the oil is changed.
Easier cold starts mean increased energy savings and less pollutant emissions.
Enhanced anti-rust and anti-corrosion properties.