Home

/

AGRIPRO HJD SAE 10W30
Transmission / Hydraulic lubes Mineral - AGRIPRO HJD SAE 10W30
AGRIPRO HJD SAE 10W30
Farming
3545

Families :

Oléo Dynamique

Mineral

Viscosity :

10W30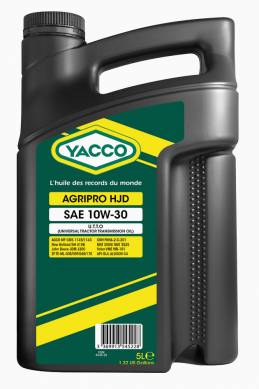 Specifications
AGCO Massey Ferguson : CMS M1145/ M1143/ M1141/ M1135
Fiat New-Holland : FNHA-2-C-201.00; Ford M2C134D
New Holland NH 410B/NH 410C
Case New Holland CNH MAT 3505/ 3509/ 3525/3526/3540
John Deere : JDM J20C/ J20A
Volvo CE WB 101
ZF TE-ML-03E/03L/05F/06P/17E/21F
Class : when Renault GA 12 or GA 16 fluids are recommended
API GL-4; Allison C4; ISO HV 68
Case IH (Normes MS 1206, MS 1207 et MS 1209)
Deutz Allis
Komatsu; Dresser (Normes B-06-001/-002)
Kubota UDT; Steyr; White Farm
Available packing sizes
| | Référence | Conditionnement | Carton |
| --- | --- | --- | --- |
| 5L can | 3545 | 22 | 15 |
| 20L barrel | 3545 | 13 | 00 |
| 60L barrel | 3545 | 10 | 00 |
| 208L barrel | 3545 | 06 | 00 |
| 1000L tank | 3545 | 30 | 00 |
Descriptions
AGRIPRO HJD is a fluid for transmissions and hydraulic systems.
Lubrication of transmissions equipped with wet disc brakes system on agricultural and construction equipment where the use of API GL 4 SAE 10W 30 or SAE 80W is specified.
Also suitable for automatic or hydrostatic transmissions, torque convertors, hydraulic systems, power steering, power take off (PTO) with oil immersed clutch where the manufacturer recommend the use of UTTO (Universal Tractor transmission Oil) oi meeting one of the following specifications.
Properties and advantages
Excellent anti wear and extreme pressure properties.
Good protection against rust and corrosion.
Specific friction coefficient suitable for clutch and wet brakes transmissions.
Excellent oxidation and shear resistance.
Outstanding anti foam properties.
Very good stability in service.