Home

/

AGRIPRO MULTI 4 SAE 15W40
Multifunctional lubes Mineral - AGRIPRO MULTI 4 SAE 15W40
AGRIPRO MULTI 4 SAE 15W40
Farming
3295

Families :

Oléo Dynamique

Mineral

Viscosity :

15W40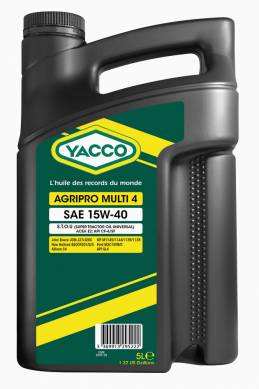 Specifications
Multifonctionnelle (STOU : Super Tractor Oil Universal) :
John Deere J27; Ford M2C 159B/C
Massey Ferguson M 1145/ M 1144/ M 1139; New Holland 82009202/203
Transmissions : API GL-4 - Allison C4; ZF TE-ML 06B/06C/07B/07D
Moteur : API CF-4/CE/CD (diesel) / API SF/SE (essence); ACEA E3/E2
Hydraulique : HV 100
UTTO (Universal transmission Tractor Oil) :
John Deere J 20C; Massey Ferguson M 1135
Available packing sizes
| | Référence | Conditionnement | Carton |
| --- | --- | --- | --- |
| 5L can | 3295 | 22 | 15 |
| 20L barrel | 3295 | 13 | 00 |
| 60L barrel | 3295 | 10 | 00 |
| 208L barrel | 3295 | 06 | 00 |
| 1000L tank | 3295 | 30 | 00 |
| 1000Lbulk | 3295 | 19 | 00 |
Descriptions
Yacco AGRIPRO MULTI 4 SAE 15W40 is a multipurpose oil for agricultural vehicles.
Suitable for lubricating the engines (including supercharged ones), transmissions, hydraulic systems, clutches and wet brake systems of agricultural vehicles.
Depending to the manufacturer's recommendations, either use this product or a specific oil for the engine (TRANSPRO) and another for the hydraulic system and transmissions (SUPER HJD, AGRIPRO HJD or AGRIPRO HF 6).
Properties and advantages
Outstanding resistance to oxidation provides increased oil stability throughout the service life of the oil.
Excellent protection against rust, corrosion and wear.
Friction coefficient appropriate for clutches and wet brakes.
Multigrade formula means a suitable viscosity in hot and cold conditions.