Home

/

ATF X FE
Automatic transmission fluids Synthetic 100% - ATF X FE
ATF X FE
Gearboxes / beam axles
3539

Families :

Fuel Economy

Synthetic 100%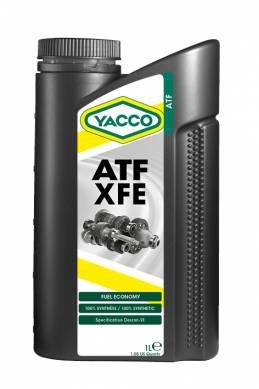 Specifications
YACCO ATF X FE is suitable when the manufacturer requires the use of an oil which meets one of the following specifications on the technical sheet.
Available packing sizes
| | Référence | Conditionnement | Carton |
| --- | --- | --- | --- |
| 1L can | 3539 | 25 | 01 |
| 5L can | 3539 | 22 | 15 |
| 60L barrel | 3539 | 10 | 00 |
Descriptions
Yacco ATF X FE is a fuel economy synthetic fluid for automatic transmissions.
100% synthetic fluid for automatic transmissions and power steering systems in passenger cars and light commercial vehicles. Particularly recommended for multi-speed automatic gearboxes (up to 8 and 9 speed transmissions) requiring a low viscosity ATF for better fuel economy and lower CO2 emissions.
Specifications
Yacco ATF X FE meets the specifications of the main OEMs and covers a wide range of uses (see table of specifications).
Properties and advantages
Optimized friction coefficient for a smooth operation of the gearbox over the service life of the fluid.
High viscosity index ensuring perfect lubrication at low and high temperatures.
The low pour point provides good performance in cold conditions and instant lubrication upon start-up.
100% fully synthetic formula with excellent thermal stability (increased oxidation resistance), thus prolonging the service life of the oil.
Non-aggressive to seals, as well as ferrous and non-ferrous materials used in modern transmissions.
A low-viscosity fluid designed to increase fuel economy by reducing fluid resistance within the transmission.
Fuel economy can be further improved with the use of Fuel Economy engine oil.