Home

/

MULTI 5 SAE 10W40
Multifunctional lubes Semi synthetic - MULTI 5 SAE 10W40
MULTI 5 SAE 10W40
Transport / Heavy equipment
3316

Semi synthetic

Viscosity :

10W40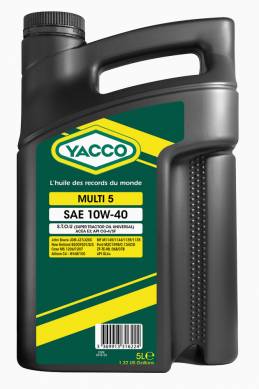 Specifications
Engine : API CG-4/CF-4 / SF; ACEA E3/E2
Hydraulic : Afnor HV 68/100
STOU (Super Tractor Oil Universal) : John Deere J27; Fiat New Holland 82009203;
Ford M2C 159B/C; Massey Ferguson M 1145/1144/1139;
ZF TE-ML-05K
Transmission : API GL-4; Allison C4; Caterpillar TO-2
UTTO (Universal Tractor Transmission Oil) : John Deere J20C/J20A;
Case MS 1206/1207; Ford M2C134A/C/D et M2C80B/C;
FNHA-2-C-201.00; NH410B; Massey Ferguson 1143/M1135/M1127A
Available packing sizes
| | Référence | Conditionnement | Carton |
| --- | --- | --- | --- |
| 5L can | 3316 | 22 | 15 |
| 20L barrel | 3316 | 13 | 00 |
| 60L barrel | 3316 | 10 | 00 |
| 208L barrel | 3316 | 06 | 00 |
| 1000L tank | 3316 | 30 | 00 |
| 1000Lbulk | 3316 | 19 | 00 |
Descriptions
MULTI 5 SAE 10W40 is a semi-synthetic multipurpose oil for agricultural equipment.
MULTI 5 SAE 10W40 is multi functional lubricant for most farm and construction equipment applications. This STOU (Super Tractor Oil Universal) lubricant provides excellent performance in turbocharged and naturally aspirated diesel engines, transmissions , hydraulics, final drives, and wet brakes.
Do not use MULTI 5 SAE 10W40 in recent engines equipped with a DPF, but a low SAPS lubricant for increased protection of the post treatment systems.
Properties and advantages
High detergent dispersant properties and outstanding shear stability
Semi synthetic formula ensures improved resistance to oxidation and increased stability in service.
SAE 10W grade provides low viscosity at cold temperatures for easy start ups, and better hydraulic response (faster oil flow compared to a 15W40 multi purpose mineral oil).
Good extreme pressure properties.
SAE 40 grade maintains a perfect lubrication at high temperatures.
Offers outstanding wear protection for engines and others components of construction equipment.