Home

/

TRANSPRO 40 LE SAE 15W40
Premium mineral lubes Mineral - TRANSPRO 40 LE SAE 15W40
TRANSPRO 40 LE SAE 15W40
Transport / Heavy equipment
3319

Families :

LOW SAPS

Mineral

Viscosity :

15W40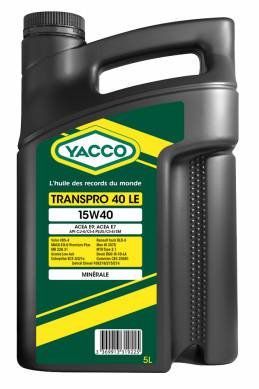 Specifications
ACEA E9/E7
API API CK-4/ CJ-4/ CI-4 PLUS/ CI-4/ SN
VOLVO VDS-4.5
RENAULT Trucks RLD-3
MACK EO-O 4.5
MAN M 3775/ 3575
MB-Approval 228.31
MTU Type 2.1
DEUTZ DQC III-18-LA
Caterpillar ECF-3/ECF-2/ECF-1a
Cummins CES 20081/ 20077/ 20076
Detroit Diesel 93K222
Ford M2C171-F1
Available packing sizes
| | Référence | Conditionnement | Carton |
| --- | --- | --- | --- |
| 5L can | 3319 | 22 | 15 |
| 20L barrel | 3319 | 13 | 00 |
| 60L barrel | 3319 | 10 | 00 |
| 208L barrel | 3319 | 06 | 00 |
| 1000L tank | 3319 | 30 | 00 |
| 1000Lbulk | 3319 | 19 | 00 |
Descriptions
Yacco Transpro 40 LE SAE 15W40 is a "Low SAPS" oil for diesel engine.
Specifically designed for low-emission diesel engines with an aftertreatment system: particulate filter (DPF) or SCR technology (AdBlue fluid).
Also suitable for construction and agricultural equipment which meets the latest Tier 4 specification (Caterpillar, Class, Fendt, JCB, John Deere, Kubota, New Holland, Same, Steyr, Massey Ferguson, Valtra, etc.), and for Euro 6, Euro 5 & Euro 4 lorry and bus engines which requir SAE 15W40 oil.
It is also suitable for older diesel engines.
Properties and advantages
Excellent dispersant-detergent properties provide effective protection against clogging and deposits formation, keeping the engine clean.
Outstanding thermal stability means you can follow the oil change intervals recommended by the OEM.
Low ash, low phosphorus and low sulphur additives to ensure compatibility with particulate filter systems and prevent them from clogging.
Increased anti-wear properties for enhanced resistance to bore polishing.
Meets the requirements of leading manufacturers, it is suitable for latest generation of engines and compatible with older ones.