Home

/

TRANSPRO 40 SAE 15W40
Premium mineral lubes Mineral - TRANSPRO 40 SAE 15W40
TRANSPRO 40 SAE 15W40
Transport / Heavy equipment
3307

Mineral

Viscosity :

15W40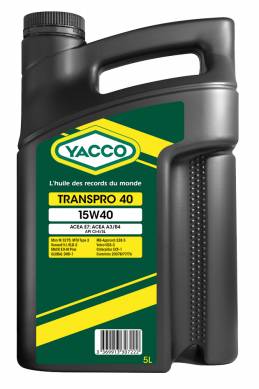 Specifications
ACEA E7; ACEA A3/B4
API CI-4/SL
JASO DH-1
GLOBAL DHD-1
Volvo VDS-3
Renault Truck RLD-2
Mack EO-N/ EO-M Plus
Man M 3275
MB 228.3
M.T.U. Type 2
Cummins CES 20078/20077
Detroit Diesel 93K215
Caterpillar ECF-2/ECF-1a
Deutz DQC III-10
Available packing sizes
| | Référence | Conditionnement | Carton |
| --- | --- | --- | --- |
| 5L can | 3307 | 22 | 15 |
| 20L barrel | 3307 | 13 | 00 |
| 60L barrel | 3307 | 10 | 00 |
| 208L barrel | 3307 | 06 | 00 |
| 1000L tank | 3307 | 30 | 00 |
| 1000Lbulk | 3307 | 19 | 00 |
Descriptions
Yacco TRANSPRO 40 SAE 15W40 is a mineral oil for diesel engines.
Mineral oil developed to meet the strict technical requirements of Euro 5 & Euro 6 or Tier 4 & Tier 3 low-emission diesel engines without DPF and using SCR technology (AdBlue).
Suitable for most supercharged and naturally aspirated diesel engines which run on high or low sulphur fuel: lorries, construction and agricultural equipment, stationary engines, generators, marine engines, etc.
It is also suitable for gasoline engines in mixed fleets of vehicles where the manufacturer recommends the use of API SL or ACEA A3/B4, ACEA/B3 SAE 15W-40 oil.
Properties and advantages
Excellent dispersant/detergent properties.
Outstanding protection against wear and corrosion.
Increased shear resistance ensures stable oil viscosity in service.
Allows for extended oil change intervals of up to 60,000km or more, depending on the manufacturer's recommendations, the service conditions and the quality of the fuel used.
Keeps the engine clean and free from sludge and deposits.
Increased protection against bore polishing in diesel engines.
Export market only.