Home

/

TRANSPRO 40S SAE 15W40
Semi-synthetic lubes Semi synthetic - TRANSPRO 40S SAE 15W40
TRANSPRO 40S SAE 15W40
Transport / Heavy equipment
3306

Semi synthetic

Viscosity :

15W40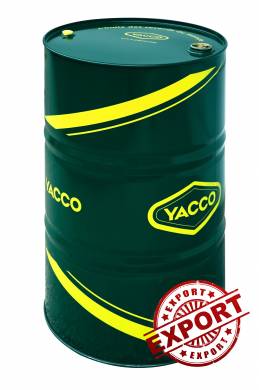 Specifications
ACEA E7
API CI-4
Volvo VDS-3
Renault Truck RLD-2
Mack EO-N
Man M 3275
MB 228.3
M.T.U. Type 2
Cummins CES 20078/20077
Caterpillar ECF-2/1-a
Deutz DQC III-10
Available packing sizes
| | Référence | Conditionnement | Carton |
| --- | --- | --- | --- |
| 5L can | 3306 | 22 | 15 |
| 20L barrel | 3306 | 13 | 00 |
| 208L barrel | 3306 | 06 | 00 |
| 1000L tank | 3306 | 30 | 00 |
Descriptions
Yacco TRANSPRO 40S SAE 15W40 is a semi-synthetic SHPD oil for diesel engines T.B.N. 15.
Semi-synthetic super high performance diesel oil developed to meet the requirements of high performance diesel engines: lorries, buses, construction and agricultural equipment, stationary engines, marine engines etc.
Particularly suitable for turbocharged engines without DPF, used under severe service conditions all year round.
Specifically developed for engines which run on diesel containing 0.5% of sulphur and above.
Properties and advantages
Designed with a high TBN (Total Base Number) for increased engine protection and extended oil change intervals, especially when using diesel with a high level of sulphur
Reinforced synthetic base stock for improved resistance to oxidation.
Increased anti-wear properties for enhanced resistance to bore polishing.
Extended oil change intervals of up to 100 000km, depending on the service conditions, the quality of the fuel and the OEM recommendations.
Good anti-corrosion, anti-rust and anti-foam properties.
Export market only.