Home

/

TRANSPRO 45 SAE 10W40
Synthetic lubes Synthetic - TRANSPRO 45 SAE 10W40
TRANSPRO 45 SAE 10W40
Transport / Heavy equipment
3304

Synthetic

Viscosity :

10W40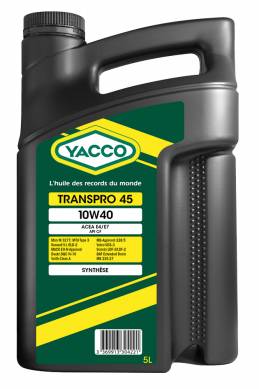 Specifications
ACEA E4; ACEA E7
API CF
LDF-3/LDF-2 confirmed by Scania
Deutz DQC III-10, MB 228.5
MTU Type 3
Renault Truck RXD et RLD-2
Volvo VDS-3
Voith Retarder Category A (MB 235.27)
Available packing sizes
| | Référence | Conditionnement | Carton |
| --- | --- | --- | --- |
| 5L can | 3304 | 22 | 15 |
| 20L barrel | 3304 | 13 | 00 |
| 208L barrel | 3304 | 06 | 00 |
| 1000L tank | 3304 | 30 | 00 |
| 1000Lbulk | 3304 | 19 | 00 |
Descriptions
Yacco TRANSPRO 45 SAE 10W40 is a synthetic oil for diesel engines.
Designed for the lubrication of high performance diesel engines of heavy-duty equipment (lorries, construction equipment, gensets, agricultural equipment, etc.).
Particularly recommended for low-emission vehicles (from Euro 3, Tier 3 onwards), including those with EGR and/or SCR (AdBlue fluid) technology without particulate filter.
Properties and advantages
Synthetic formula for enhanced resistance in service.
Very good thermal and mechanical stability.
Excellent detergent property (T.B.N.) compatible with diesel high in sulphur contents (over 0.5%).
Excellent protection against oxidation for optimal performance in service.
Improved oil flow upon start-up.
Cuts fuel consumption due to reduced friction.
Extended oil change intervals of up to 120,000km, depending on the service conditions, the quality of the fuel and the OEM recommendations.