Home

/

XAS3 SAE 40
Premium mineral lubes Mineral - XAS3 SAE 40
XAS3 SAE 40
Transport / Heavy equipment
3223

Mineral

Viscosity :

40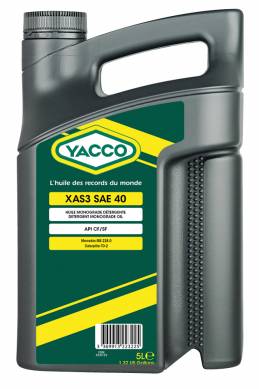 Specifications
API CF/SF
Caterpillar TO-2
Mercedes-Benz MB 228.0
Available packing sizes
| | Référence | Conditionnement | Carton |
| --- | --- | --- | --- |
| 5L can | 3223 | 22 | 15 |
| 20L barrel | 3223 | 13 | 00 |
| 208L barrel | 3223 | 06 | 00 |
Descriptions
Yacco XAS3 SAE 40 is a detergent monograde oil.
Yacco XAS3 SAE 40 is a mineral detergent oil with specific additives for diesel engines (including supercharged ones) used under normal service conditions.
May be used in gasoline engines under non-severe service conditions.
Also suitable for the lubrication of gearboxes, torque converters, and hydraulic systems where the manufacturer recommends SAE 40
engine oil.
This product has a wide range of uses, including agricultural, garden, marine, transport and construction equipment, etc.
Properties and advantages
Excellent detergent/dispersant properties keep the engine clean.
Enhanced anti-wear, anti-oxidation and anti-corrosion properties for optimal protection of the engine or transmissions.
Good anti-foam and anti-rust properties.
Enhanced shear resistance for increased viscosity stability in service.
Excellent protection against rust.