Home

/

YYAS3 SAE 10W
Premium mineral lubes Mineral - YYAS3 SAE 10W
YYAS3 SAE 10W
Transport / Heavy equipment
3220

Mineral

Viscosity :

10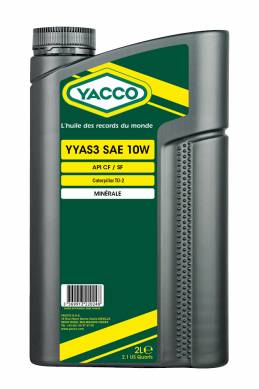 Specifications
API SF/CF
Caterpillar TO-2
Available packing sizes
| | Référence | Conditionnement | Carton |
| --- | --- | --- | --- |
| 2L can | 3220 | 24 | 02 |
| 20L barrel | 3220 | 13 | 00 |
| 208L barrel | 3220 | 06 | 00 |
| 1000L tank | 3220 | 30 | 00 |
Descriptions
Yacco YYAS3 SAE 10W is a detergent monograde oil.
Yacco YYAS3 SAE 10W is a detergent monograde oil with specific additives for the lubrication of gearboxes, torque converters, and hydraulic systems (including off-road equipment) where the manufacturer recommends the use of monograde SAE 10W engine oil.
This product has a wide range of uses, including agricultural, garden, marine, transport and construction sectors, etc.
Properties and advantages
Excellent detergent/dispersant properties keep the parts clean.
Enhanced anti-wear, anti-oxidation, anti-corrosion and anti-foam properties for optimal protection of the systems or transmissions.
Good protection against oxidation, oil thickening, varnish and deposit formation at high temperatures.
Enhanced shear resistance for increased viscosity stability in service.
Good anti-foam properties ensure excellent lubrication.
Outstanding protection against rust.