Home

/

LUBE P+ SAE 5W30
Yacco Lube Synthetic 100% - LUBE P+ SAE 5W30
LUBE P+ SAE 5W30
Automobile
3070

Families :

MID SAPS

Synthetic 100%

Viscosity :

5W30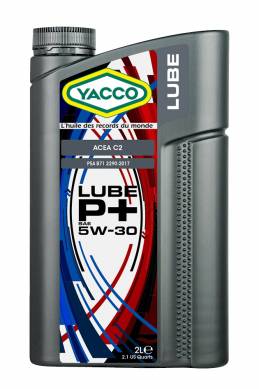 Approvals
PSA B71 2290 (2019 version)
Available packing sizes
| | Référence | Conditionnement | Carton |
| --- | --- | --- | --- |
| 2L can | 3070 | 24 | 02 |
| 5L can | 3070 | 22 | 15 |
| 60L barrel | 3070 | 10 | 00 |
| 1000L tank | 3070 | 30 | 00 |
| 1000Lbulk | 3070 | 19 | 00 |
Descriptions
Yacco LUBE P+ SAE 5W30 is a 100% synthetic oil for diesel and gasoline engines.
Fuel economy "Mid SAPS" formula. Specifically designed to meet the PSA B71 2290 (2017 version) standard of the Peugeot Citroën Automobiles Group. Suitable for most* of Peugeot, Citroën and DS diesel engines (except blue-HDi) and gasoline engines (except Puretech EB2, THP EP6, etc.: consult the vehicle's maintenance manual before use). Its very advanced technology allows for fuel savings and reduces CO2 emissions.
Yacco LUBE P+ SAE 5W30 meets the requirements of all other diesel and gasoline engines which recommend or allow the use of a SAE 5W-30 ACEA C2 oil: Fiat, Iveco, Toyota, etc.
*Except those which require a PSA B71 2312 SAE 0W30 or PSA B71 2010 0W20 engine oil
Properties and advantages
Put through specific 2017 PSA engine and laboratory tests, including the new PSA low-speed pre-ignition (LSPI) specification.
"MID SAPS" technology (lower levels of sulphated ash, sulphur and phosphorous), prolonging the service life of particulate filters and increasing the protection of catalytic converters.
Low HTHS viscosity at 150°C for greater fuel savings.
Outstanding resistance to oxidation, even to VOME (vegetable oil methyl esters), allows for safe prolonged periods between oil changes.