Home

/

MVX 1000 4T SAE 10W50
4-stroke motorcycles lubes Synthetic 100% - MVX 1000 4T SAE 10W50
MVX 1000 4T SAE 10W50
Moto / quad / Karting
3322

Synthetic 100%

Viscosity :

10W50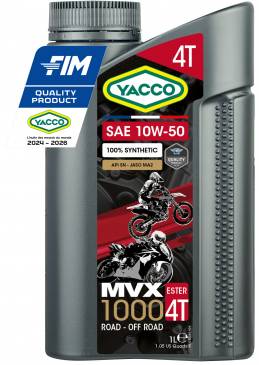 Specifications
JASO T903:2016 MA2
API SN
Available packing sizes
| | Référence | Conditionnement | Carton |
| --- | --- | --- | --- |
| 1L can | 3322 | 25 | 01 |
| 60L barrel | 3322 | 10 | 00 |
| 208L barrel | 3322 | 06 | 00 |
| 1000Lbulk | 3322 | 19 | 00 |
| 4L can | 3322 | 28 | 45 |
Descriptions
This product has been awarded the FIM Quality Product Label 2021-2023 by the Fédération Internationale de Motocyclisme (FIM).
Yacco MVX 1000 4T SAE 10W50 is a 100% synthetic oil for 4-stroke motorcycle engines and esters-based formula.
Especially recommended for hypersport motorcycles equipped with the latest technology which are used all year round under all service conditions, even the most severe ones, including competition. Also suitable for integrated gearboxes, providing increased protection of the clutch/gear unit (JASO MA2).
Maintains engine performance under extreme driving conditions and during long-distance trips at high speed. Far exceeds the requirements of the main motorbike manufacturers.
Properties and advantages
SAE 10W50 grade and 100% synthetic esters based formula provide excellent stability at high temperatures and optimal lubrication upon start-up.
Specific viscosity improver additives provide excellent shear resistance, enabling viscosity stability under service conditions.
Excellent detergent/dispersant properties for a cleaner engine.
Low volatility means reduced oil consumption.
The high friction coefficient, as per JASO MA2 requirements, prevents slipping clutches.