Home

/

MVX 500 4T SAE 10W40
4-stroke motorcycles lubes Synthetic technology - MVX 500 4T SAE 10W40
MVX 500 4T SAE 10W40
Moto / quad / Karting
3324

Synthetic technology

Viscosity :

10W40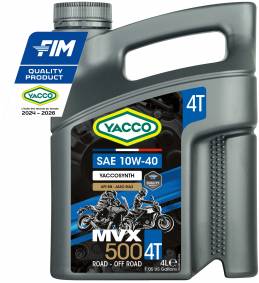 Specifications
JASO T903 : 2016 MA2 oil code M033YCO372
API SN
Available packing sizes
| | Référence | Conditionnement | Carton |
| --- | --- | --- | --- |
| 1L can | 3324 | 25 | 01 |
| 60L barrel | 3324 | 10 | 00 |
| 208L barrel | 3324 | 06 | 00 |
| 4L can | 3324 | 28 | 45 |
Descriptions

This product has been awarded the FIM Quality Product Label 2021-2023 by the Fédération Internationale de Motocyclisme (FIM).
Yacco MVX 500 4T SAE 10W40 is a YACCOSYNTH synthetic technology engine oil for 4-stroke motorbike engines.
Synthetic technology SAE 10W40 engine oil formulated for 4-stroke motorbikes. Provides perfect engine lubrication even under severe service conditions. Suitable for all types of bikes (roadsters, custom, GT, and sport bikes). Provides increased protection of the clutch/gear unit (JASO MA2 specification). Improves the reliability of high-revving engines.
Properties and advantages
SAE 10W40 grade provides easy cold starts and quick oil flow.
Good detergent/dispersant properties.
Specific friction properties for maximum performance of the clutch/gear unit.
Very good protection of the engine and gearbox against wear.
Maintain initial engine performance by optimum protection against deposits.
Lower exhaust emissions and enhanced fuel economy.