Home

/

MVX SCOOT 4 SAE 10W40
Scooters lubes Semi synthetic - MVX SCOOT 4 SAE 10W40
MVX SCOOT 4 SAE 10W40
Moto / quad / Karting
3328

Semi synthetic

Viscosity :

10W40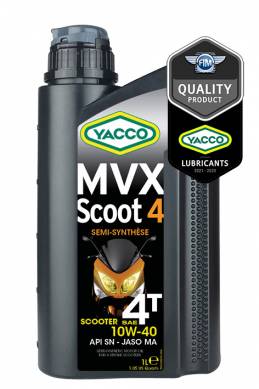 Available packing sizes
1L can
60L barrel
208L barrel
Descriptions
This product has been awarded the FIM Quality Product Label 2021-2023 by the Fédération Internationale de Motocyclisme (FIM).
Yacco MVX SCOOT 4 SAE 10W40 is a YACCOSYNTH synthetic technology engine oil for 4-stroke scooter engines
Yacco MVX SCOOT 4 SAE 10W40 is a synthetic technology oil for 4-stroke scooter engines. Ideal for frequent stop-and-go urban traffic conditions. Also suitable for integrated gearboxes, ensuring increased protection of the clutch/gear unit (JASO T903:2016 MA specification). Provides excellent engine protection under all service conditions, all year round.
Properties and advantages
Outstanding stability of oil viscosity at high temperatures.
SAE 10W40 grade provides quick oil flow upon start-up.
Good detergent-dispersant properties prevent the formation of deposits.
Excellent engine and gearbox protection against wear.
Compatible with 4-stroke engine catalyst converters.
Specific additives prevent clutch slip (JASO MA specification).